Biography
Marc Newson has been described as one of the most influential designers of his generation. He has worked across an extremely wide range of disciplines, and his clients include some of the best-known and most prestigious brands in the world spanning diverse sectors from furniture, luxury goods, and technology, to marine, automotive, and aviation design.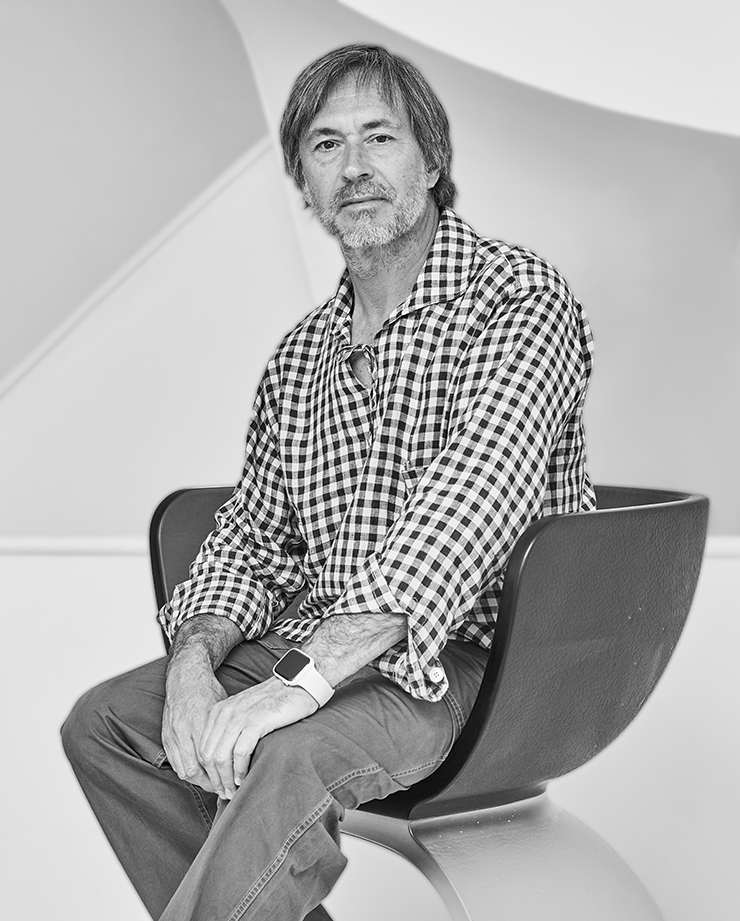 Born in Sydney, Australia in 1963, Newson has lived and worked in Sydney, Tokyo, Paris, and presently resides in the UK where his company, Marc Newson Limited, has been based since 1997. His clients include companies such as Louis Vuitton, Montblanc, Hermès, Nike, Dom Pérignon, Jaeger-LeCoultre and Ferrari to name a few. As well as overseeing his own company, he has held senior positions at clients' companies, having been Creative Director of Qantas Airways from 2005-2015, and Designer for Special Projects at Apple since his first involvement in the design of the 'Apple Watch'. In 2019, Marc and Sir Jonathan Ive founded the creative collective LoveFrom.
Marc Newson studied Fine Art at The University of Sydney and with the aid of an Australian Crafts Council grant, he staged his first solo exhibition in 1986 at the age of 23. He began his career hand making furniture and timepieces in a workshop in Sydney, early designs included the Super Guppy Lamp, Pod of Drawers and Embryo Chair, the latter of which has been in production since its inception. By the age of 25, Newson had created the Lockheed Lounge, a riveted aluminium chaise longue that has arguably become one of the most iconic contemporary design works. Some 30 years later, it has set four world record prices at auction for work created by a living designer. His design pieces are highly sought after on the secondary market, accounting for a sizeable portion of auction sales in the contemporary design category for Sotheby's, Christie's and Phillips.
Newson is the only industrial designer represented by Gagosian, and he is also represented by Galerie kreo, where Didier Krzentowski is compiling his catalogue raisonné. Leading museums around the world have hosted solo retrospective exhibitions of his work.
Additionally, his work is presented in the permanent collections of many major museums including: The Museum of Modern Art and Cooper Hewitt, Smithsonian Design Museum (New York), San Francisco Museum of Modern Art, the Design Museum and V&A Museum (London), Musée National d'Art Moderne, Centre Pompidou and Musée des Arts Décoratifs (Paris), Vitra Design Museum (Weil am Rhein), Museum Angewandte Kunst (Frankfurt), Museum für Kunst und Gewerbe Hamburg, Museu do Design e da Moda (Lisbon), Israel Museum (Jerusalem), Powerhouse Museum (Sydney), and the National Gallery of Victoria (Melbourne). He has also chaired the London Design Museum's International Design Council.
As a long-term supporter of the charity (RED), Newson together with Ive curated a design auction in 2013 which raised a staggering $46 million (USD) for The Global Fund to Fight AIDS, Tuberculosis, and Malaria. Since then, he has worked with clients to turn several of his designs 'red' in support of the charity.
Newson has been included in TIME Magazine's 100 Most Influential People and has received numerous industry awards and distinctions. He holds Honorary Doctorates from the Royal College of Art and The University of Sydney, has held Adjunct Professorships at The University of Sydney and Hong Kong Polytechnic University, and has been appointed RDI (Royal Designer for Industry) by the Royal Society of Arts. In 2012, he was awarded CBE (Commander of the Most Excellent Order of the British Empire) by Her Majesty Queen Elizabeth II.
Newson's work has been featured widely in books and publications around the world, including three monographs to date most notably the encyclopaedic 'Marc Newson Works' published by Taschen (2012). He has been the subject of various radio and television programmes including an interview on PBS on Charlie Rose, BBC's Imagine 'Marc Newson Urban Spaceman', Objects of Desire on Sky Arts, and 'Objectified', a documentary film by Gary Hustwit. In 2013, Newson spoke at TEDxSydney, and each year since 2011 he has joined the judging committee at Cartier Style et Luxe, Goodwood Festival of Speed.
Design Awards
2020-
2023
Muse Award, USA
Transportation Design - Watercraft
Fliteboard, MN Series eFoil

Good Design Award, Australia
Australian Design Prize

Fast Company Innovation by Design Award, USA
Best Design North America
Knoll, Newson Task

2022
The Chicago Athenaeum Good Design Award, USA
Bath and Accessories
Drummonds, Coln Bathtub
The Chicago Athenaeum Good Design Award, USA
Sports and Recreation
Swarovski Optik, CL Curio 7X21
Grands prix du Design, Canada
Product Design in Small Series & Hand Made: Lighting Fixture
Meljac, Solaris Swicth Plates

Interior Design Magazine, USA
Best of Year Winners
Knoll, Newson Task
LivingEtc Style Awards, UK
Best Bathroom Collection
Drummonds, Marc Newson Collection
NYCxDesign Awards, USA
Sinks and Tubs
Drummonds, Coln Collection
2021

International Design Award, USA
Home Interior Product-Switches, Temperature Control Systems
Meljac, Solaris Switch Plates
Good Design Award, Australia
Product, Sport and Lifestyle
R.M. Williams, Yard Boot 365
Red Dot Design Award, Germany
Product Design
Meljac, Solaris Switch Plates
2020

Red Dot Design Award, Germany
Product Design
Louis Vuitton, Horizon Soft Luggage

Muuus International Awards, France
Meljac, Solaris Switch Plates
Muse Award, USA
Footwear
R.M. Williams, Yard Boot 365
2010-2019
2019

Design Guild Mark, UK
Excellence in Design in the British Furnishing Industry
Knoll, Newson Aluminium Chair

2018

Metropolis Likes x NYC Design Award, USA
Knoll, Newson Aluminium Chair

HiP Design Award
Workplace: Guest Seating
Knoll, Newson Aluminium Chair

2017

Salon del Mobile Milan, Italy
The Design Prize, Lifetime Achievement Award

2016

Red Dot Design Award, Germany
Product Design
Montblanc, Montblanc M

The DFNI Americas Awards for Travel-Retail Excellence
Best New Product Launch
Hennessy, James Hennessy Decanter

2015

GQ Man of the Year, UK
Creative Icon

2014

Good Design Award, Australia
Good Design of the Year
Caroma, Marc Newson Collection

Good Design Award, Australia
Architecture and Interiors, Good Design Selection
Stormtech, Slimline Linear Drain 64MND

Design Hall of Fame, Design Institute Australia,
Services to Design in Australia

German Design Award, Germany
Special Mention
Caroma, Marc Newson Collection

Wallpaper* Design Award, UK
Domeau & Pérès, Bumper Bed

Red Dot Design Award, Germany
Best of the Best
Palm Products, Unbreakable Drinkware

2013

Philadelphia Museum of Art, USA
Collab Design Excellence Award

China Home Trends Award, China
Magis, Bunky

International Contemporary Furniture Fair, USA
ICFF Editors Award, Kitchen and Bathroom for Best Design
Stormtech, MND Series


2012

German Design Award, Germany
Gold Prize
Pentax, K-01

Red Dot Design Award, Germany
Product Design
Pentax, K-01

2011

Lucky Strike Design Award, Germany
Lifetime Achievement

2010

The Chicago Athenaeum Good Design Award, USA
Smeg, Kitchen Appliances

The Design Awards, UK
The Lifetime Achievement Award
2000-2009
2009

The Chicago Athenaeum Good Design Award, USA
Qantas, A380 First Class Suite

Australian Design Award, Australia
Australia Standards, Overall Winner
Qantas, A380

Australian Design Award, Australia
Australia Standards
Qantas, A380 Economy Seat

Condé Nast Traveller Innovation and Design Award, USA
Aviation
Qantas, A380

Wallpaper* Design Award, UK
Smeg, Kitchen Appliances

2008

GQ Man of the Year, Germany
Design

London Design Festival, UK
London Design Medal

Skytrax World Airline Award, UK
Best First Class Lounge
Qantas, First Class Lounge, Sydney

Australian International Design Award, Australia
Furniture, Lighting, Public Space
Qantas, First Class Lounge, Sydney

2007

The LEAF Award, UK
International Interior Design
Qantas, First Class Lounge, Sydney

Travel & Leisure Magazine, Australia
Australian Travel Innovator Award

2006

Design Miami/ Basel, USA
Designer of the Year Award

The Chicago Athenaeum Good Design Award, USA
Samsonite, Scope Luggage

Red Dot Design Award, Germany
Best of the Best
Samsonite, Scope Luggage

2005

The Chicago Athenaeum Good Design Award, USA
KDDI, Talby Mobile Phone

The Chicago Athenaeum Good Design Award, USA
Nike, Zvezdochka

SIFA Awards, Germany
G-Star, G-Star Raw by Marc Newson

Design and Decoration Awards, UK
Best Bathroom Product
Ideal Standard, Marc Newson Collection

Product Innovation Award, UK
Ideal Standard, Marc Newson Taps

Classic Design Awards, UK
Ideal Standard, Marc Newson Basin Mixer

Time Out Awards, USA
NY Readers' Choice, Best New Restaurant Design
Lever House, The Lever House Restaurant

L'Observateur du Design Award, France
Tefal, Kitchenware

2004

Good Design Award, Japan
KDDI, Talby Mobile Phone

ADI Compasso d'Oro Award, Italy
Honourable Mention
Alessi, Strelka Cutlery

2003

Australian Design Award, Australia
Qantas, Skybed

The Chicago Athenaeum Good Design Award, USA
Qantas, Skybed

The Chicago Athenaeum Good Design Award, USA
Ideal Standard, Marc Newson Collection

Elle Decoration Design Award, UK
Ideal Standard, Marc Newson Bath

2001

The Chicago Athenaeum Good Design Award, USA
Erreti, DH1 Door Handle

Selfridges Design Award, UK
Shortlisted

2000

ADI Compasso D'Oro Award, Italy
Alessi, Sygma Hook

Design Innovation Award, Germany
Ikepod, Hemipode Watch 'Grand Date' HD03

Red Dot Design Award, Germany
Ikepod, Hemipode Watch 'Grand Date' HD03
1990-1999
1999

Tokyo Motor Show, Japan
Concept Car Design Award
Ford, 021C

Sydney Design Convention, Australia
Issue of Australian Stamp

Red Dot Design Award, Germany
Product Design
Embryo Chair

The George Nelson Design Award, USA

1998

I.D Magazine, UK
Top 50 Designers Award

1993

Salon du Meuble Paris, France
Designer of the Year
1980-1989
1984

Australian Crafts Council, Australia
Crafts Council Award
Solo exhibitions
2023
Marc Newson
Gagosian Gallery, Paris, France
2022
Marc Newson
Gagosian Gallery, Athens, Greece
Shop Takeover
Gagosian Bookshop, London, UK
2021
Quobus
Galerie kreo, London, UK
Quobus
Galerie kreo, Paris, France
2020
Marc Newson
Gagosian Gallery, Gstaad, Switzerland
2019
Marc Newson
Gagosian Gallery, Hong Kong

Marc Newson
Gagosian Gallery, New York, USA
2013–14
Marc Newson: At Home
Philadelphia Museum of Art, Philadelphia, USA
2010
Marc Newson
Gagosian Gallery, New York, USA
2008
Marc Newson
Gagosian Gallery, London, UK
2007
Marc Newson
Gagosian Gallery, New York, USA
2004–05
Marc Newson
Design Museum, London, UK
2004
Marc Newson
Groninger Museum, Groningen, Netherlands

Kelvin40
Fondation Cartier pour l'art contemporain, Paris, France

Marc Newson
Galerie kréo, Paris, France
2003
Marc Newson
Galerie kréo, Paris, France
2001
Marc Newson: Design Works
Powerhouse Museum, Sydney, Australia
2000
Marc Newson
Galerie kréo, Paris, France
1999
Marc Newson
McLellan Galleries, Glasgow, UK
1997
Marc Newson
Villa de Noailles, Hyères, France
1995
Bucky: de la chimie au design
Fondation Cartier pour l'art contemporain, Paris, France
1994
Wormhole
Internos Bis, Milan, Italy
1993
Raum & Form
Galerie Artificial, Nuremberg, Germany

Marc Newson
Galleria Massimo De Carlo, Milan, Italy
1991
Marc Newson
VIA, Paris, France

Marc Newson
C&Bi Interior, Stockholm, Sweden
1990
Fresh produce by Marc Newson
Gold & Idée, Tokyo, Japan

Marc Newson for Idée
The Ikon Corporation, London, UK
1989
Marc Newson
Il Milione, Milan, Italy
1988
Works of Marc Newson
Idée, Tokyo, Japan
1986
Seating for Six
Roslyn Oxley9, Sydney, Australia
Selected Talks and Podcasts
2022
'Marc Newson', The Ultimate Road Trip Podcast
Available here

2021
'Marc Newson: Design Works', Sydney Design Week, The Powerhouse Museum
Available here
2020
'Art of Influence: Marc Newson', Sydney College of the Arts
Available here

2019
'Marc Newson', HODINKEE Radio
Available here
2013
'Designer of Scale', TEDxSydney
Available here